Penguin Computing on Wednesday said it is shipping a new high-performance, low-power-consumption server based on a new ARM processor from Calxeda.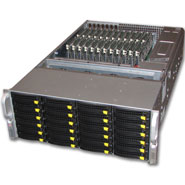 Penguin's new Ultimate Data X1 (UDX1) server is based on the new ARM-based EnergyCore ECX-1000 server on chip (SoC) from Austin, Texas-based Calxeda.
Calxeda's SoC architecture integrates a low-power-consumption ARM processor with a fabric switch and management software as a complete server node in a way that allows cloud or data center customer to scale their server infrastructures to thousands of nodes. Each server uses only 5 watts of power, Calxeda said.
"With the HPC or big cloud data center customers we deal with, we find that power and cooling over time is their biggest expense," said Charlie Wuischpard, CEO of Fremont, Calif.-based Penguin. "Anything that promises dramatically lower power is interesting. We're seeing customers start to play with ARM."
Calxeda is teaming up with several server vendors, including Hewlett-Packard and U.K.-based Boston Limited, to develop low-power-consumption servers based on its ARM architecture. However, HP in June decided to use Intel (NSDQ:INTC)'s Atom-based Centerton processor for its first Gemini low-power-consumption servers.
Penguin's UDX1 features a modular server design that can be configured with up to 48 Calxeda EnergyCore server nodes, each of which has four server cores. The UDX1 server also has an internal 10-Gbit Ethernet switch fabric and up to 144 TB of hard drive capacity.
The Calxeda EnergyCore ECX-1000 is at its core a 32-bit processor, but it comes to market as customers are investing in 64-bit applications, Wuischpard said.
"We don't necessarily expect this to go into wide-scale adoption as a 32-bit server," he said. "But it gives customers an opportunity to play with ARM for scalable environments. It gives customers opportunities to look at the design features before moving to 64 bit."
Calxeda on Wednesday said its road map includes a move to 64-bit ARM processors in 2014, and that in the meantime its 32-bit architecture will enable customers to develop new generations of cloud applications such as dynamic Web hosting and big data analytics.
Wuischpard said the new Penguin UDX1 server will be of interest in Hadoop big data environments and other areas where applications require a lot of processing but not as much internal storage.